Discover the Monday Extra Theology programme for 22-23
Monday Extra has two main goals: deepening personal worship and equipping for service.
It's perfect for you if you feel like you know the gospel and Christian stuff fairly well, but haven't experienced theology as exciting and wonderfully devotional.
It's perfect for you if you are on a team or lead a team and want to be more equipped in discipling the people you're serving.
It's perfect for anyone who would like to grow in serving and building others up in faith too.
Would you like to be part of it?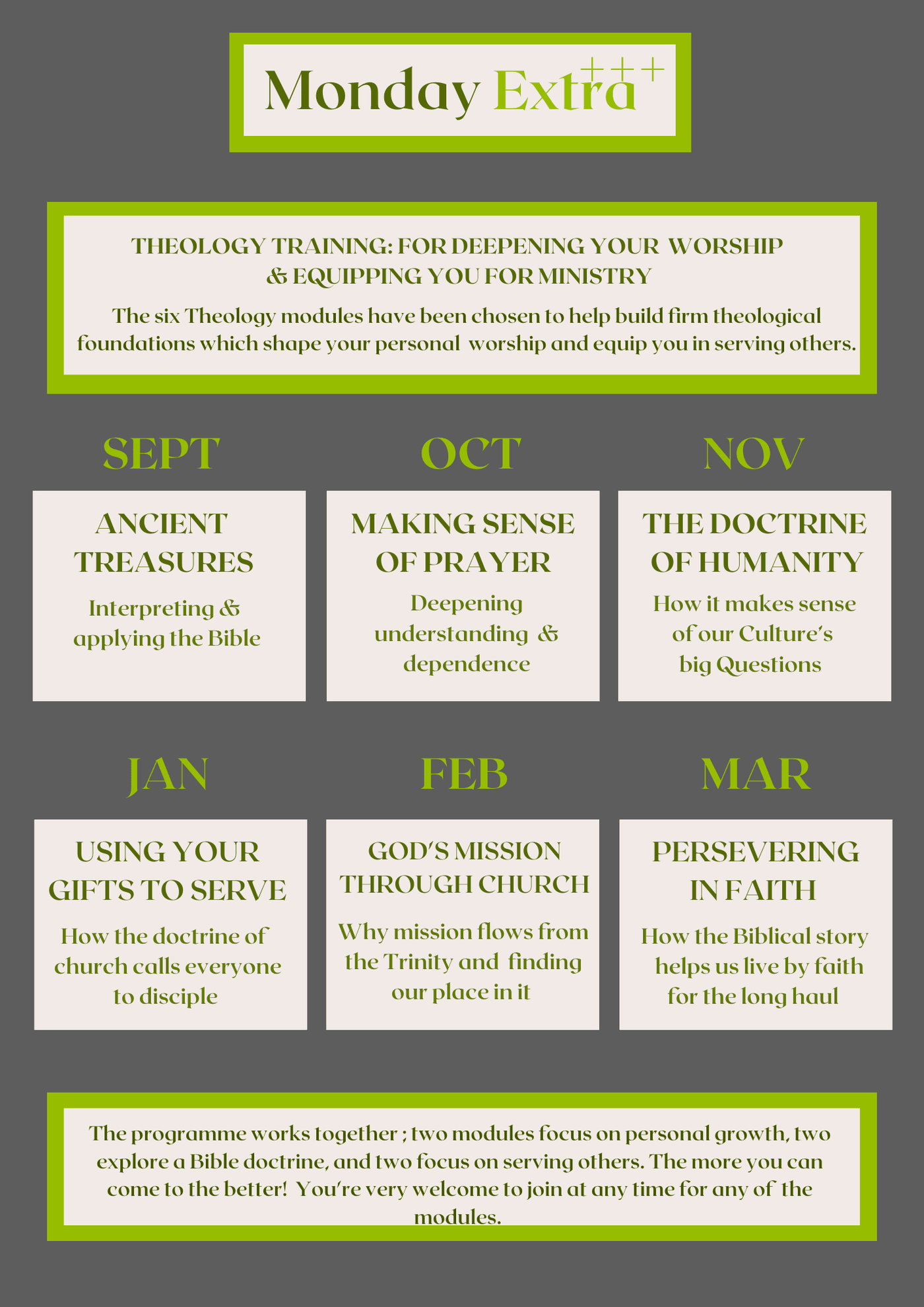 November: The Doctrine of Humanity
14th, 21st & 28th NOv | 7.30PM | At 2 Blackburne Place
14th Nov | Being Made in God's Image
Understanding our identity has taken on a huge significance in our culture over the last generation. A good place to start is to understand what it means to be human, and especially what the Bible says about humanity. We'll find how being made in the image of God means every human reflects 'sunbeams' of what God is like, but also that we are 'shadows' where we distort God's image into our own.
The doctrine of humanity is the place to start to understand the struggle with sin in our lives, how we can be 'good', and where we should go to find out about our identity.
21st Nov | Identity, Gender and Sexuality
Much of the historic Christian belief about gender and sexuality is often dismissed in current dialogue as 'traditional' - meaning out-dated! In Part 2 of this series, we'll see how Christian beliefs about gender and sexuality are rooted in the Christian understanding of our identity as humans.
We'll look through how the doctrine of humanity gives us a firm and clear place to stand on questions of identity, and therefore helps us to engage with the dialogue around us about gender and sexuality.
28th Nov | How to love, listen and make sense
Understanding the Bible's teaching about what it means to be human has huge pastoral implications for how we care for others who are ... humans!
From conflict resolution, to helping people through questions of identity, to people trapped in the spiral of self-destructive habits, part 3 will show us how the doctrine of humanity helps us understand how to love, listen and make sense to suffering people around us.
Sign Up
January: Using Your Gifts to Serve
16th, 23rd & 30th January | 7:30pm | At 2 Blackburne Place
USING YOUR GIFTS TO SERVE: HOW THE DOCTRINE OF THE CHURCH CALLS EVERYONE TO DISCIPLE
Jan 16: Everybody Has Gifts: Discovering and understanding our gifts in light of God's plan for His church
Jan 23: Everybody Has Weakness: How God's intention for the church requires our weakness, and the challenge of stepping into that
Jan 30: Everybody Does Ministry: What 'Ministry' is, and why all of it is done by ordinary people
If you have any questions, please get in touch with Josh.