A warm welcome to all women!
Our women's ministry programme offers safe, friendly places where you can get to know other women at church & grow in your faith in Jesus.
We would love you to join us!
every two months, there's a breakfast or a seminar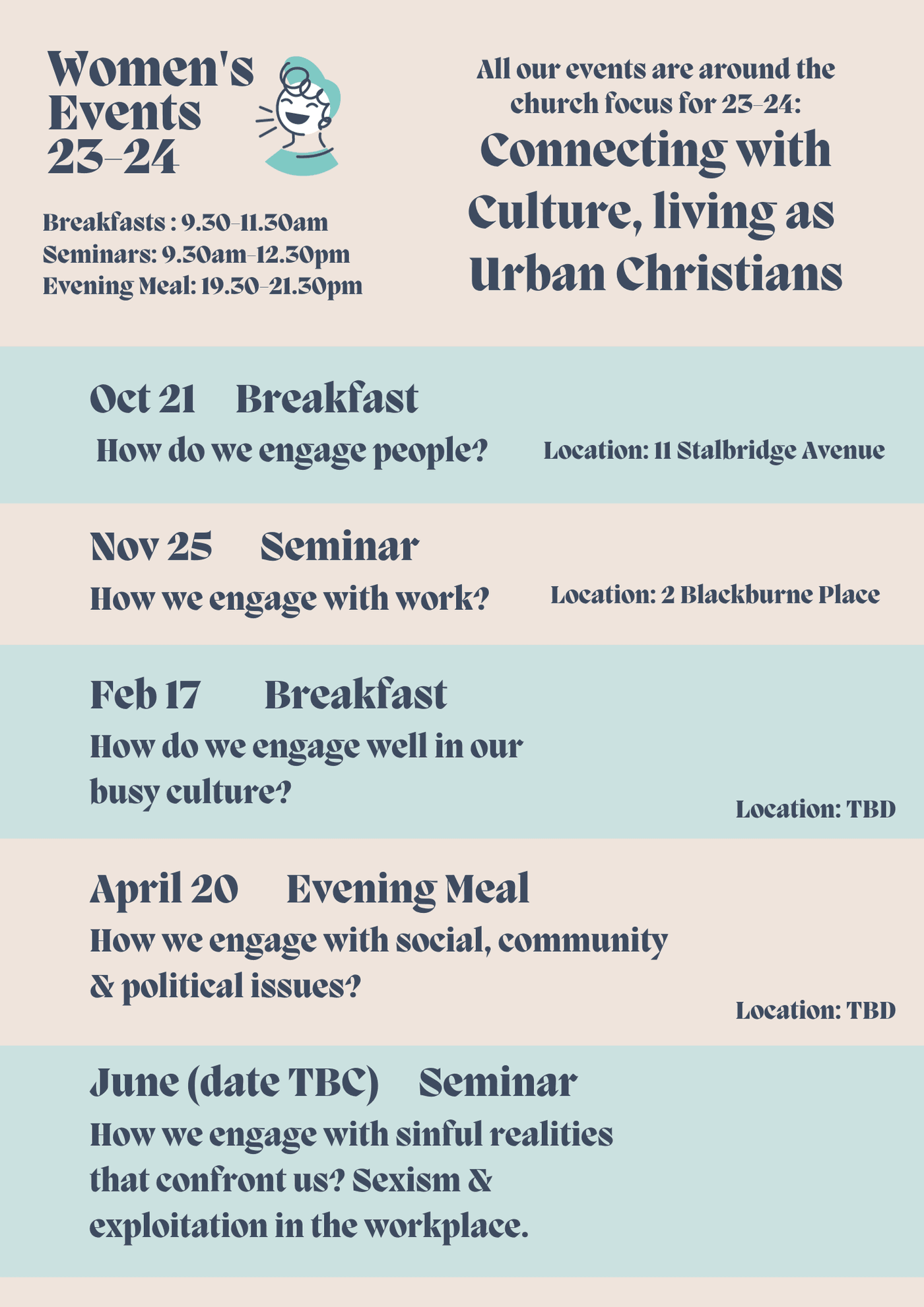 Sign up for the Seminar on 25th November
Location: 2 Blackburne Place
Women's Ministry Vision
We want to provide informal and more formal training opportunities for learning and growing together. We have women from very different backgrounds and stages of life, and God has put different things on our hearts.
We're going to have regular opportunities for growing in relationship and being discipled together through Saturday Breakfasts - (In Homes) and Women's Seminar Mornings (at 2 Blackburne Place) .
We're looking to express the biblical principles of intentional 'training' relationships in our church family: Older women teaching younger women (Titus 2:3-6) and passing the baton on (2 Tim 2:2).
Saturday Breakfasts in Homes
We'll have breakfast together and then an informal training time, by hearing from different women with particular interests or passions.
We want to see the breakfasts:
enable conversations that wouldn't happen otherwise, so women to feel part of a wider church community.
create an opportunity to use our gifts to build each other up, so we are growing together as disciples of Jesus.
" I love the fact that people from church often seek out those who are new and approached them to get to know each them better. The women's fellowship experience for me was out of this world. When I arrived at the meeting, I felt out of place and wanted to go home but I was made to feel at home. It reminded me of this quote by Harriet Beecher Stowe: 'Never give up, for that is just the place and time that the tide will turn.' -Eucharia
Meet the Women's Ministry Leadership
Lindsay is originally from Scotland and initially came to Liverpool to work as a Geologist before moving to Australia for a few years. While in Australia, she completed her Ministry Degree, and is now an Associate Minister at Christ Church Liverpool.
She'd love to talk to you about anything to do with Women's Ministry